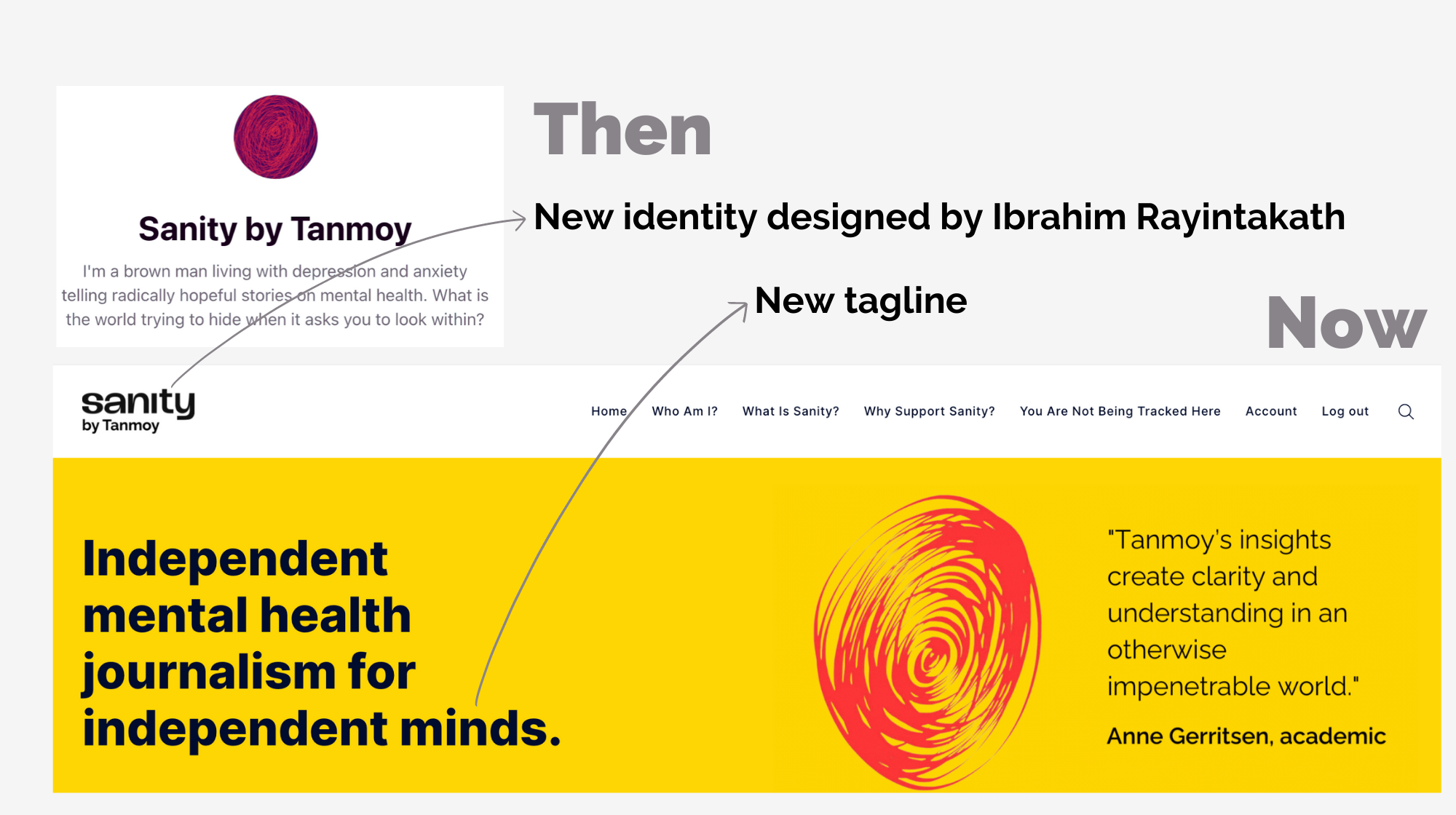 This is probably the wildest thing I've done in my life
👋🏾 Welcome to Sanity by Tanmoy's new home. Hope you like the view.
June 17 was the last time I published an edition of Sanity by Tanmoy. I promised my 1,700 subscribers around the world that I'd be back soon with a shiny new website, bigger and more adventurous than just a newsletter. They cheered me on as they always do – god I love these people. But then, a couple of things happened that no one had seen coming.
Pegasus. And Simone Biles and Ben Stokes.
First came the stunning snooping scandal allegedly targeting journalists, activists, business leaders, bureaucrats, even a king and presidents and prime ministers. This latest outbreak in the long-running pandemic of wanton destruction of privacy, the very kernel of freedom, filled me with dread. But more than that, it left me with an overwhelming feeling of loss and sadness. What's the point? I kept asking myself. Can there really be such as thing as a 'safe space' anymore? Why even try?
Weeks later, US gymnastics GOAT Biles said she was walking away from the Olympics to tend to her mental health. Soon, British cricketing talisman Stokes withdrew from a prestige series against India citing the same reason. Their acts added momentum to what tennis superstar Naomi Osaka, and many others before that, had started. I loved the statement they were making. But holy shit, my stomach turned.
You see, just as quitting for self-preservation was becoming cool, I was neck deep in incomprehensible code, pesky design issues, byzantine international payment systems, a budget crunch, the worst relapse of depression and anxiety in a long time, and other assorted pains that come with being a solo media entrepreneur in the middle of a pandemic.
Entrepreneur – the one thing I'd promised myself I'd never become, because I felt I didn't have the stomach for it. I won't lie to you, I did consider for a moment if it wouldn't just be easier to stop, refund everyone, eat a giant tub of ice cream, deactivate my social media accounts, and pretend Sanity by Tanmoy was just a fantasy in my head.
Then, a third thing happened. I couldn't stand the thought of deleting Twitter. No, that wasn't it. What happened is this. In the midst of all this frenzy, I'd almost forgotten that I'd requested some of Sanity by Tanmoy's friends and supporters to write me brief testimonials. Why they like what I do, and why they believe others too should support this work.
Their responses had now started trickling in. And as I read their messages, brimming with love and friendship and incredible belief, my stomach felt like it had acquired a new vibranium lining, and Wakanda, I mean the world, felt like a place worth fighting for after all.
See for yourself.
So here we go again.
Welcome to Sanity by Tanmoy 2.0. The home of independent mental health storytelling for independent minds.
First, some housekeeping
If you are already a subscriber, free or paying, exploring this site is a breeze
Simply click 'log in' with the same email ID where you are receiving this.
You'll get a link in your email to complete the login.
That's it. Do this whenever you want to log in. No password required.
If you are a paying subscriber, billing continues as usual. Nothing changes.
If you are new to Sanity by Tanmoy, you have a couple of options to sign up
You can register for free with your email address in the 'free sign-up' field on the homepage banner (see below).
You will now receive my weekly newsletter and have access to the free stories on the site.
Or, and I am really hoping you'd go for this option, you can become a paying subscriber. Click on the 'subscribe' button at the top right corner of the homepage, choose your plan, and complete your payment.
That's it. Now log in with your registered email, click on the link in your inbox, and you're set.

Why become a paying subscriber?
Glad you asked.
When Sanity by Tanmoy was just a weekly newsletter, it reached the top six of Substack's paid health-related publications within 100 days of launch. It was the only non-western entry on the list. But despite that, the chasm between a niche mental health publication produced by a guy from India and big mastheads run by US business and tech writers was vast and deflating.
I'm not being cynical – they do great work, and the market values their skill and time, as it must. But it was clear to me that the much-hyped 'creator economy', projected as the Great New Hope for new, unheard voices, was still largely the bastion of the Same Old.
It's time to assert unabashedly that mental health deserves better. For too long, many good, honest people building this space with backbreaking toil have found themselves at the bottom of the market's pecking order. They do their own thing, the world has gotten used to thinking, because they are nice and kind and derive 'purpose' or 'meaning' from their work. This is unfair, unsustainable, and has to end.
Halfway through 2021, mental health is the single biggest cultural obsession on the planet. Venture capital is rushing into mental health startups. There is a lot of hand-wringing about phoney actors making the most of this gold rush. Mental health coverage in the global media, while improving, still privileges the experiences of people in rich countries. Mental health narratives are still dominated by biomedical themes rather than justice and rights. The only way for this space to get some sanity is to wisely choose who you support. Strengthen independent storytelling not backed by multinational conglomerates, where mental health isn't just a side beat, but the very beating heart of journalism. This is hard, necessary, and urgent emotional labour, and it cannot survive without your support.
So sure, I can tell you about all the benefits you will get as a paying subscriber – regular roundtables with me and other community members, early access to the podcast, privileged and discounted access to special events, the opportunity to underwrite subscriptions for those who can't afford it.
But really, I ask you to support Sanity by Tanmoy because so many of you – people with lived experience, therapists, psychiatrists, activists, researchers, fellow journalists, students, policymakers, entrepreneurs and corporate executives, anyone with an interest in building a more compassionate and dignified world — have told me that a space like this needs to exist. It isn't perfect, it won't be everything we hope for overnight, but it needs to exist.
If not now, when?
Subscription currency and a new option for international readers
For complex reasons, the subscription currency at the moment is Indian rupees. The monthly subscription comes to roughly USD7 and the annual one USD70.
If you are an international reader who'd like the option to pay in a different currency, I am excited to roll out a new feature for you.

Choose your plan and complete your payment via PayPal. Don't forget to mention 'Subscription to Sanity' in the payment description.
I will activate your subscription within 24 working hours, and you can then log in from the link that you'll receive in your inbox.
What else is new?
A lot of good things.
Sanity by Tanmoy 2.0 is proudly built on Ghost, a not-for-profit, open source publishing platform. With this I am saying goodbye to Substack.
I have invested in a bunch of other tools – from analytics to commenting – to make sure this site respects your privacy. It's expensive for a small entrepreneur – there, I used the word – like me, and I'm piecing it together using my rudimentary technical knowhow. But this is the bit about creating this site that makes me the happiest. Read more on this page.
I will write more frequently, and you can catch up with all of it anytime on the website. But I will still send you just the one email a week with the week's featured story plus a curation of interesting things from the world of mental health.
Coming up: New series on a tonne of important ideas, including those shared by readers, and more journalistic collaboration with paying subscribers.
A fresh-new version of Raw, my monthly podcast centred on lived experience.
New writers, artists, perhaps even team members.
A special event in the works that I'm positive you'll love.
And finally, and most critically, a campaign to keep Sanity by Tanmoy independent and ad-free and make it sustainable, plus help me put food on the table. At the moment, I am some distance from achieving that. (You can read my last financial update here.) I will need a lot of help from you on this. Details soon.
Finally, a word of thanks
The amazingly talented Ibrahim Rayintakath for designing the typographic logo and generally being my sounding board on all things design.
Ahmad Ajmi, the creator of the Penang theme I have used for this site. Ahmad patiently helped me troubleshoot a million challenges.
Justin, Sarah, Paul, and the rest of the Ghost team. Thank you for restoring my faith in customer service.
Isabelle Roughol and Uri Bram, two other creators on Ghost, for handholding me through the move.
My wife for putting up with my long, moody absences. My son for making me tell him stories about dragons and dinosaurs every night, ensuring I wouldn't completely drown in stress.
Parents who sent me money to pay for some of the new software.
A founding member who sent me additional cash to tide over. Another who was always there to remind me that I'm going to be okay.
Nirmal, Garima, other comrades who had faith when I didn't.
My instructors, mentor, and classmates at the Newmark J-School's Entrepreneurial Journalism Creators Program. This 100-day programme helped me believe I won't explode in flames if I chose entrepreneurship. Also, thanks Substack for the scholarship to attend this.
My social media tribe and all the kind people who offered to donate their time for the site – I owe you and can't wait to see what we can build together.
Sanity by Tanmoy's subscribers from over a dozen countries. Each one of you is the reason I do this. Period.
My therapist. Obviously.
Sanity by Tanmoy might bear my name, but it wouldn't exist without the silent, often erased work of generations of pioneers. Unlike the most marginalised voices in the mental health movement, I am fortunate to have a platform and a megaphone. And I want to use it to help fix this imbalance, give back, and pay the goodness I receive forward.
I hope you enjoy the view from this new home. Please explore, and this is really important – let me know if you spot anything that needs fixing.
Regular business resumes next week. Until then, may sanity be with you.
Comments
Join the newsletter to receive the latest updates in your inbox.