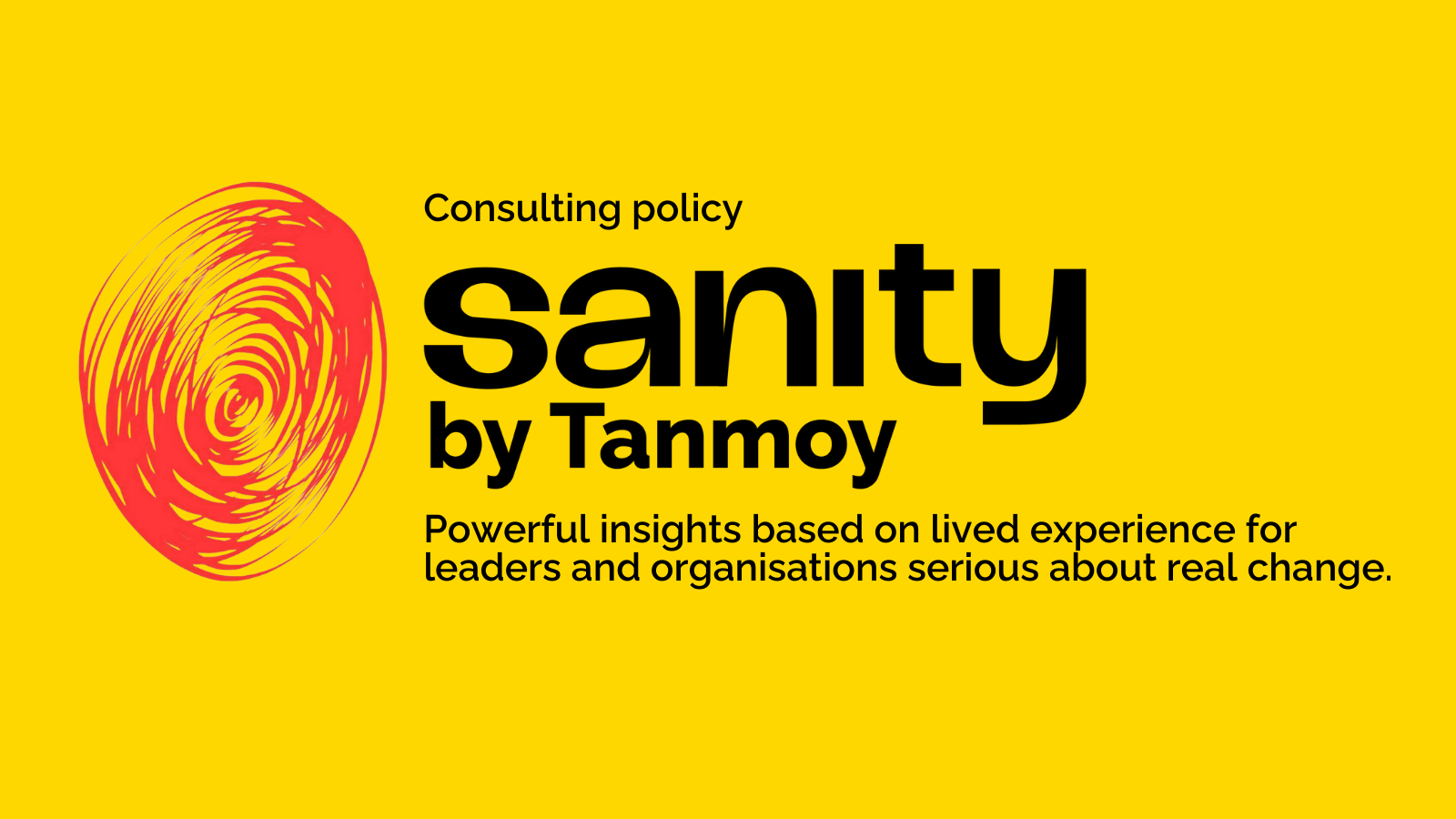 Policy for consulting work
Hi there. Thank you for your interest in working with me.
Before you read further, do note that I am not a mental health professional, wellness guru, or coach. 'Consulting', as that term is broadly understood, is not my thing either. I don't work with PPTs and Excel sheets (though I can). My strength lies in telling powerful stories centred on the human mind. I geek out on perspectives and insights 100% rooted in lived experience, using my vantage as a person with mental health challenges as well as a professional journalist. I love nuanced and respectful conversations. I am allergic to bullshit.
I strongly urge you to read this explainer on my consulting policy. For any questions that aren't answered here, feel free to drop me a line here: tanmoy@sanitybytanmoy.com. My other contact details are here.
A quick reintroduction
If you're on this page, you may already know that I am a lived experience expert, mental health storyteller, and retired business editor. You can head to this page for my detailed story, and this page to understand the 16 principles I follow in my work. Check out this 1-minute video on why my supporters value my approach to mental health.
Before shifting to mental health journalism to make sense of my own lifelong mental health challenges, I worked as a business editor and writer in giant corporations, tiny startups, and top mainstream media outlets for over 13 years.
I spent a significant part of my journalism career understanding and writing about tech startups.
I was the youngest managing editor of a magazine cofounded by a former dean of Harvard Business School, and the founding editor of India's first innovation magazine.
I headed the desk at Fortune magazine's Indian edition and helped build ET Prime, the subscription-based platform owned by India's largest pink paper, The Economic Times.
In 2016, I was the joint winner of the Prize for Economic Journalism in Asia awarded by IE Business School, Madrid.
I am an advisor to Project SIREN, India's first-ever programme to monitor and evaluate the quality of media reporting on suicide. I am also part of various work groups on suicide prevention.
In 2021, I was selected for the Entrepreneurial Journalism Creators Program at the Newmark Business School, City University of New York.
In 2022, I was invited to speak on the creator economy in Asia at the International Journalism Festival in Perugia. (Thanks to my friends at Splice Media, Singapore.)
Starting October 2022, I will be a fellow at the Reuters Institute for the Study of Journalism, University of Oxford, researching mental health journalism in the global south.
Today, Sanity by Tanmoy is a community of nearly 3,000 subscribers from the world. Over 10% of them are paying supporters from 40+ countries across six continents.
My interests
I am excited about the intersection of these four themes:
Mental health advocacy with a lived experience lens.
Business and technology.
Culture of mental health in workplaces.
Niche media entrepreneurship, AKA the creator economy.
I love helping people and organisations engage with these issues and start conversations that could seed real change. For instance:
If you are a business leader, I believe it's time you got rid of the wasteful idea of employee 'happiness' and pivot your policies towards humanity instead.
Investors and philanthropies: the mental health community needs you to support projects that respect and meaningfully embed lived experience.
If you are a media professional or a newsroom leader, I'd love to talk to you about why mental health is not a 'soft' beat, and how following the principles relevant to mental health journalism can make all of your journalism much better and more valuable to your audience.
If you are an independent media entrepreneur or are planning to become one, I'm happy to share with you what I have learnt from my journey so far, including insights on building reader relationships and staying ad-free.
Pro bono work
As a solo entrepreneur with limited sources of income, I am able to spend no more than 20% of my time on pro bono projects. Connect with me if you are:
A journalism student.
A student of any other discipline who needs mentoring on the mental health ecosystem, or on applying to courses and programmes related to the subject.
A volunteer-run or non-profit organisation with budget constraints looking for expertise based on lived experience.
An aspiring media entrepreneur.
Please note: I am not able to offer advice on dealing with mental health problems or recommend therapists/psychiatrists.
Paid consulting
For everyone else: I usually invite potential collaborators to a 30-minute video call to understand the specific insights they are looking for, followed by paid sessions as required.
The introductory chat is on me. Any fee discussed later would include compensation for any other lived experience expert we might lean on during the project. Please note that my consulting clients have no control on the stories I write for Sanity by Tanmoy, which remains 100% ad-free and funded by readers.
Lived experience expertise is real, game-changing expertise, but it is habitually disrespected and exploited. Many lived experience experts have uncertain income streams, but they are unfailingly generous with their time and wisdom. Whether or not you and I decide to work together, I urge you to please pay any lived experience expert for their (emotional) labour – even if it's for a panel discussion or a fireside chat in your organisation.
Let's talk.