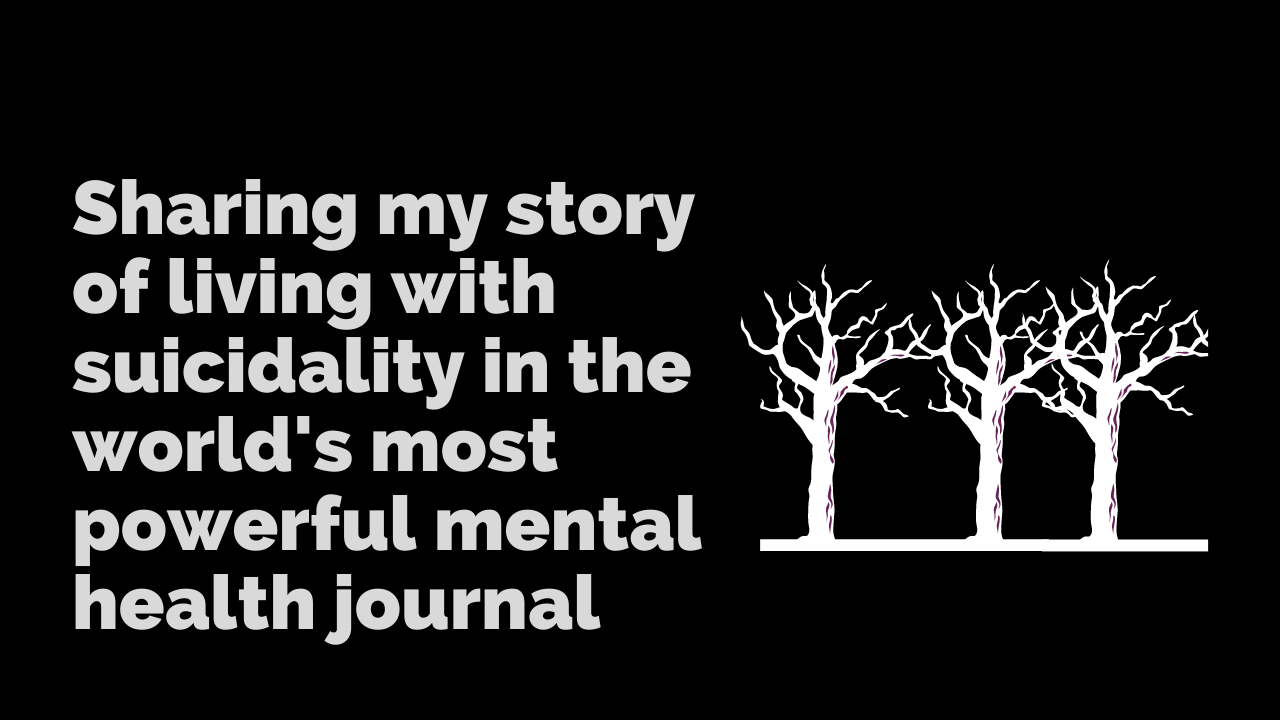 Bridging the gap between 'Dr' and 'Mr'
I got to write about the lived experience of suicidality in a strategic paper on suicide prevention in India, published today in The Lancet Psychiatry.
<Trigger warning: mentions suicidal thoughts>
I woke up this morning to an unusual email.
"Dear Dr Goswami," it read, "as co-author of the article The national suicide prevention strategy in India: context and considerations for urgent action, we are pleased to let you know that your article is now available online..."
I instinctively wanted to reply that they'd got the prefix before my surname wrong, because I am no 'Dr'. But I understood how the error must have crept in. You see, I am far from the typical author published in The Lancet Psychiatry, the world's most powerful mental health journal. You can't really blame them for forgetting to change the salutation in an automatically generated email for one odd author.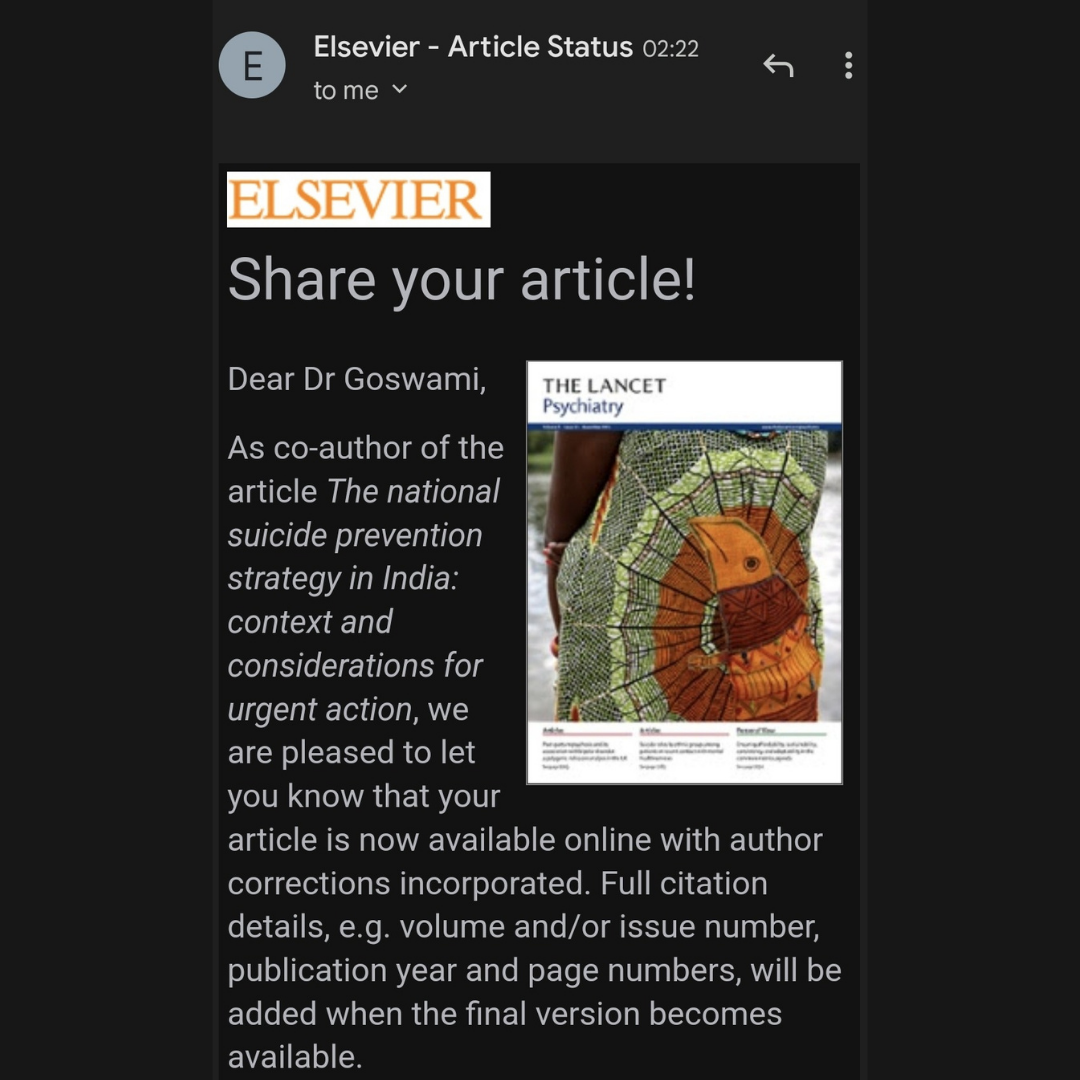 So I decided to let it be. I decided to not be a sourpuss. I decided to focus instead on what today means for me – the only 'Mr' among the illustrious 'Dr' co-authors of a piece on suicide prevention in a publication bearing the hallowed Lancet name – many of them my mentors and heroes.
I decided to take a minute to tell myself that I had really travelled the crazy distance from contemplating ways to kill myself approximately a third of every month to contributing to a scholarly paper on suicide prevention that would be read by important people all over the world – people who often have the power to control the destiny of people like me.
I decided to try and park the guilt of hoarding space that should belong to those not entitled to my caste, class, or gender privileges. I decided to share with you that our tiny collective dream, Sanity by Tanmoy, is now a permanent part of the annals of The Lancet Psychiatry, alongside Harvard and Cambridge and NIMHANS et al. I hope you will read it and share it along.
The heady scent of dignity
I am filled with contrasting emotions right now. Gratitude is near the top of the list. Years ago, when I fought my family to study humanities instead of science, or when I chose a job after completing my masters – the first ever in my family to get that far – over enrolling for a PhD, I had shrugged off any chance of ever seeing my name in prestigious academic journals. So I was surprised when I got a phone call a few months ago from Lakshmi Vijayakumar, one of India's foremost suicide prevention experts and a member of the WHO Network on Suicide Prevention and Research.
"Tanmoy, I am putting together a team to write a paper on why India urgently needs a national suicide prevention policy," she said. "I want you on the team."
Aside of my lack of 'qualifications' and imposter syndrome, I have had a bleak view of international mental health journals, which have often supported the hegemony of white, western 'experts' at the expense of voices from low- and middle-income countries. Particularly glaring has been their omission of people with lived experience from the global south.
Just last week, I chronicled how The Lancet Psychiatry itself has been condemned by non-western researchers for embodying this elitist syndrome. For instance, in July, the journal had published a position paper on the global mental health challenges posed by Covid-19. The paper's 'international' group of 24 authors had no representatives from LMICs in Africa and Asia (except China). Most of the evidence in the paper was from high-income countries (HICs). All but two of the authors were also from HICs. Of the journal's 50 editorial board members, only eight belonged to LMIC institutions. Only four were black, and only eight were Asian (but only four of them were based in institutions in Asia).
Three of the board members identified as service users; only one of them was from an LMIC.
Vijayakumar and The Lancet Psychiatry offered me the chance to play a small role in rectifying this. Vijayakumar said she wanted me to tell my story of living with suicidality, and that she valued me precisely because I did not have the baggage of conventional pundits. Over the next few months of researching the paper, writing out drafts, and sharing feedback on each other's segments, I experienced something rare from my co-authors: the feeling of being taken seriously, of being engaged with as a fellow expert, of being treated with dignity and equality. Who knew that writing about the feeling of profound worthlessness could give one a sniff of feeling worthy?
The question of worth and worthlessness is central to much of suicide literature, but here's what much of it misses: for an entire generation that grew up in the newly liberalising economies of the global south, finally suffused with the heady smell of success and self-actualisation, suicide carried double the stigma. Not only did it signal weakness of character, it made you feel like someone in conflict with the upbeat national mood. This is what I chose to focus on in the few hundred words allocated to me.
However, as grateful as I am that I got to do this as part of an all-Indian group, I am also angry. I am angry that despite a groundswell of stories from Nepal, Kenya, Bangladesh, western experts are still doubting whether the pandemic has heightened the risk of suicide. I am angry that suicide is still viewed as a health sector problem, minimising the role of socio-economic culprits. I am angry that we talk far too much about why dying isn't okay and not nearly enough about how to make living easier.
So, what are we asking for in this paper?
Suicide is the biggest killer of Indians in the 15-39 age group. We argue that the absence of a national suicide prevention strategy, inappropriate media reporting, legal conflicts in the interpretation of suicide being punishable, and inadequate multisectoral engagement are major barriers to effective suicide prevention. We call for urgent action in India by integrating suicide prevention measures at every level of public health, with special focus on the finalisation and implementation of the national suicide prevention strategy.
Beyond those big words, my personal hope is that the inclusion of lived experience on such big name platforms becomes so commonplace that it won't merit sentimental 1,000-word essays. And that email notifications sent to authors will not start with 'Dear Dr ...' as the default.
Comments
Join the newsletter to receive the latest updates in your inbox.