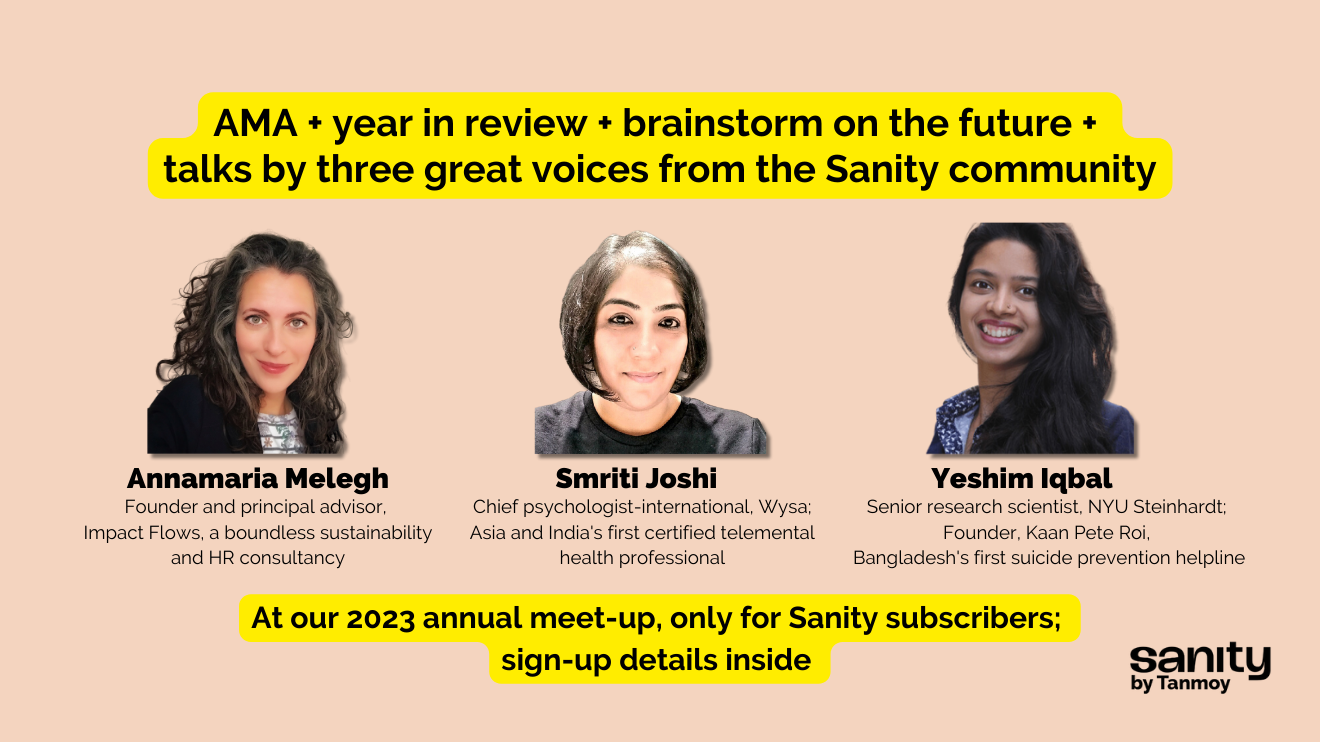 📌 Sanity's 2023 annual community meet-up is here!
Sign up now to get an invite. RSVPs close June 7.
Hello, fellow Sanity seeker.
I'm thrilled to invite you to our 2023 online community meet-up, an annual fixture where we celebrate our tribe spanning 50+ countries across six continents.
This year, we will have special talks by three powerful voices who are also great friends of Sanity: Annamaria Melegh, founder and principal advisor, Impact Flows, a boundless sustainability and HR consultancy; Smriti Joshi, chief psychologist - international, Wysa, who's also Asia and India's first certified telemental health professional; and Yeshim Iqbal, senior research scientist at NYU Steinhardt and founder of Kaan Pete Roi, Bangladesh's first suicide prevention helpline.
They'll share with us deep insights they've developed from their brilliant work on mental health technology, suicide prevention, and workplace culture, respectively.
You'll also get to hear from me about my pains and gains from the past year, ask me anything, share your ideas, and meet some of the coolest, kindest people I know whov'e come together around the mission of Sanity.
This meet-up is exclusively for Sanity subscribers. If you want to be there, follow these two steps:
Create a Sanity account. This will add you to my mailing list for my weekly newsletter and invites to my events. Zero ads, spam, or other BS. You can become a paying supporter at 20% off forever if you want to support my work, or sign up here for free.
Log in, come back to this article, and RSVP by clicking the RSVP button below the speaker bios 👇🏾. Or drop me a line at tanmoy@sanitybytanmoy.com with "2023 meetup" in the subject line and a screenshot of the subscription confirmation email, and I'll add you to the attendee list. (PS: I'm one guy managing everything, so please only do the latter if you are unable to RSVP yourself. Thanks.)
Non-subscribers will not be sent the link to the meet-up. RSVPs close June 7.

Join the newsletter to receive the latest updates in your inbox.