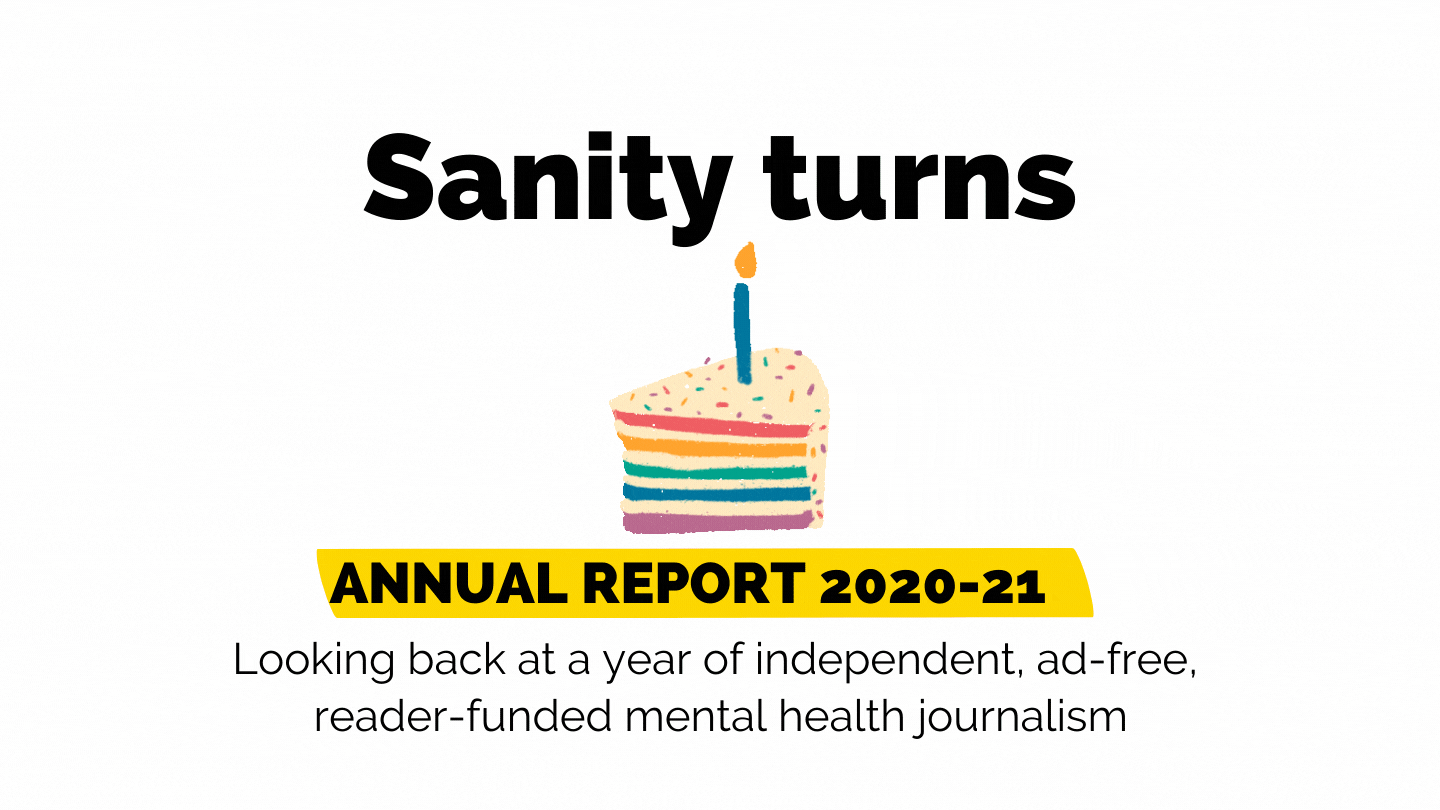 🎉 Happy 1st birthday to us
Editorial highlights, financial numbers, stuff that didn't work, recognition for Sanity, and plans for 2022. Enjoy :)
Exactly a year ago, I lost my job, panicked about being unemployed in the middle of a pandemic, and responded in the most clichéd way a journalist drowning in a midlife crisis could – by launching a Substack newsletter. I was angry and sad (and a wee excited) that I was being forced to give up my lifelong fear of 'entrepreneurship', and in that confused haze I settled on three lofty goals:
Build a solo, independent mental health storytelling platform out of India and challenge the westernised, pharma-dominated mental health conversation.
Combine lived experience storytelling with deep research and reportage.
Keep the platform 100% ad-free and reader-funded.
What happened in the following 12 months isn't a triumphant story. It is, at best, a story about surviving kicking and screaming.
But, considering everything... well let's just say lasting these 12 months is worth eating cake. So here's a slice for you, courtesy my wife who decided this milestone called for a little impromptu celebration, and our 4-year-old, who has appointed himself the family's designated candle-blower.
Happy 1st birthday to us, fellow sanity seeker. Thank you for being with me, and cheers to survival.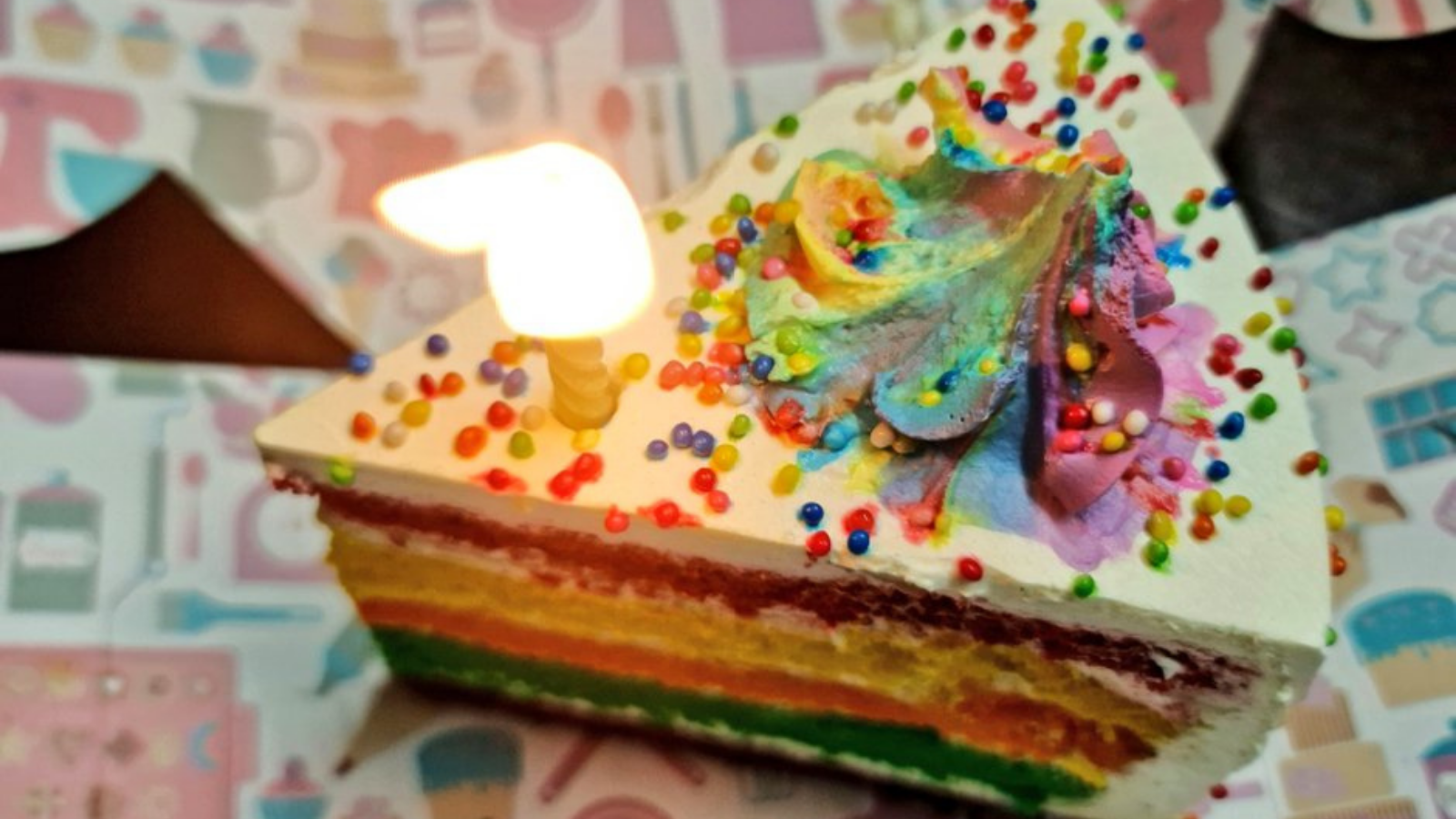 In keeping with tradition, I'm here to share with you a detailed summary of Year 1. Below you will find:
Editorial highlights
Financial data and miscellaneous numbers
Things that did not work
Recognition for Sanity
Early plans for 2022.
If you haven't read one of these reports before, you might wonder why one guy running a tiny site has to fuss about all this. The answer is simple: Because you deserve to know.
Because in the post-jobs creator economy – most of my income this year has come from subscriptions and donations from hundreds of strangers and a few friends in 40+ countries, a career scenario I wouldn't have dreamed of just a year ago – trust has to be reciprocal.
Because this exercise might help others like me struggling to rebuild a livelihood independently amid all-round devastation (especially if you are a creator from the global south, which finds little mention in the gung-ho media stories on the creator economy).
And because putting everything out there as transparently as I can is good for my own mental health. Also, looking back is fun. Settle in, and feel free to share this with anyone who might be interested in some geekery.
📌
I'd already covered some of the highs and lows of the year in my half-yearly report.
Check it out
if you haven't yet.
Editorial highlights: 50 stories and counting
Sanity by Tanmoy started as a fortnightly newsletter on Substack before turning weekly. Since leaving Substack for my own website in August, I've often published two long-form pieces a week. I haven't missed a single week so far (which is not really something to brag about; more on that below).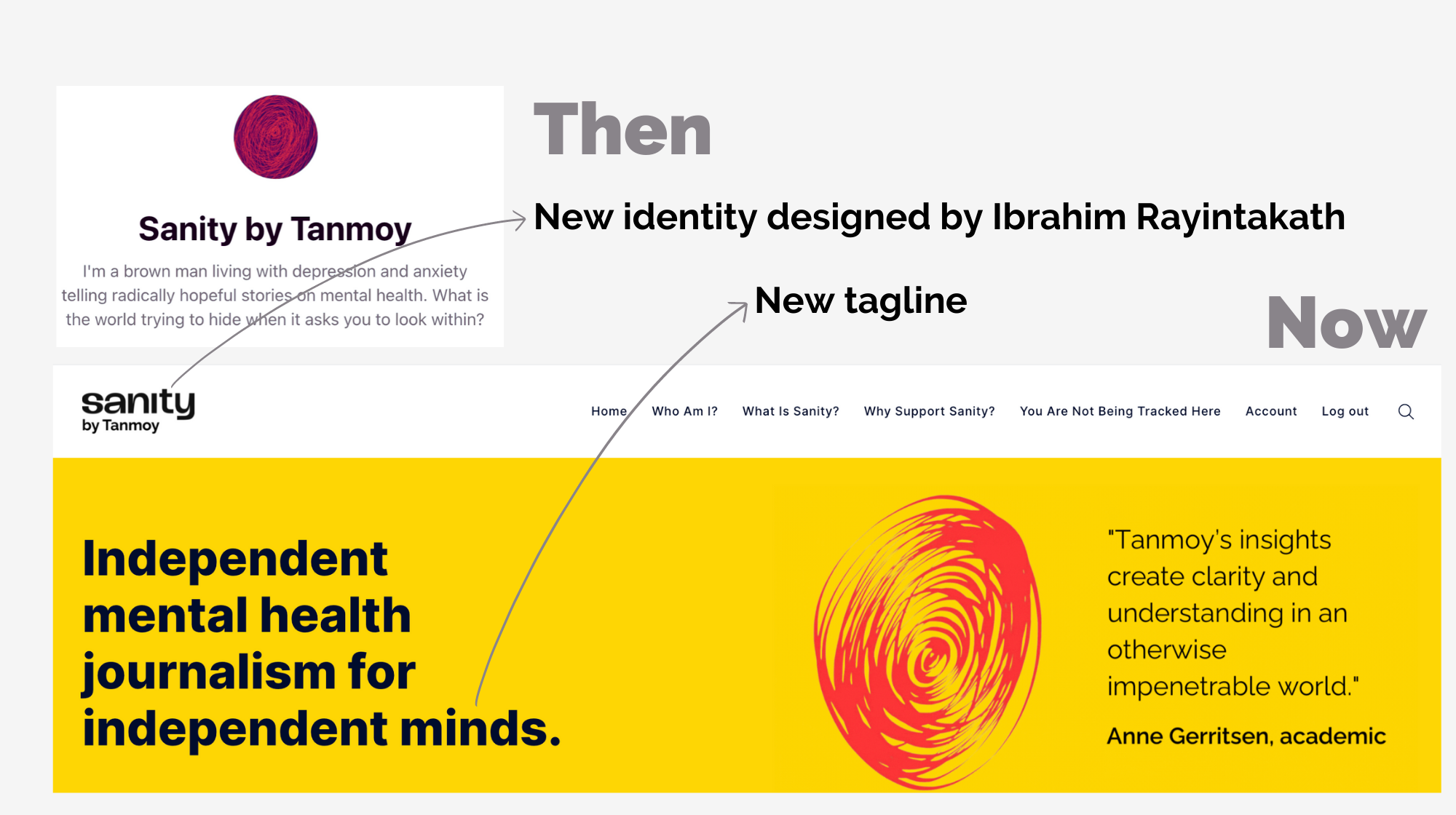 My effort has been to consistently focus on the intersectional, systemic, and structural factors responsible for modern human distress that cannot be blamed on the individual.
One of the more popular memes on this site is my definition of mental health as a ping pong match between our biology and our environment. You can't reduce the way you feel to serotonin fluctuations in the brain or whatever – and when you hear someone do that, pause and ask whose interest does such a narrow, formulaic view serve?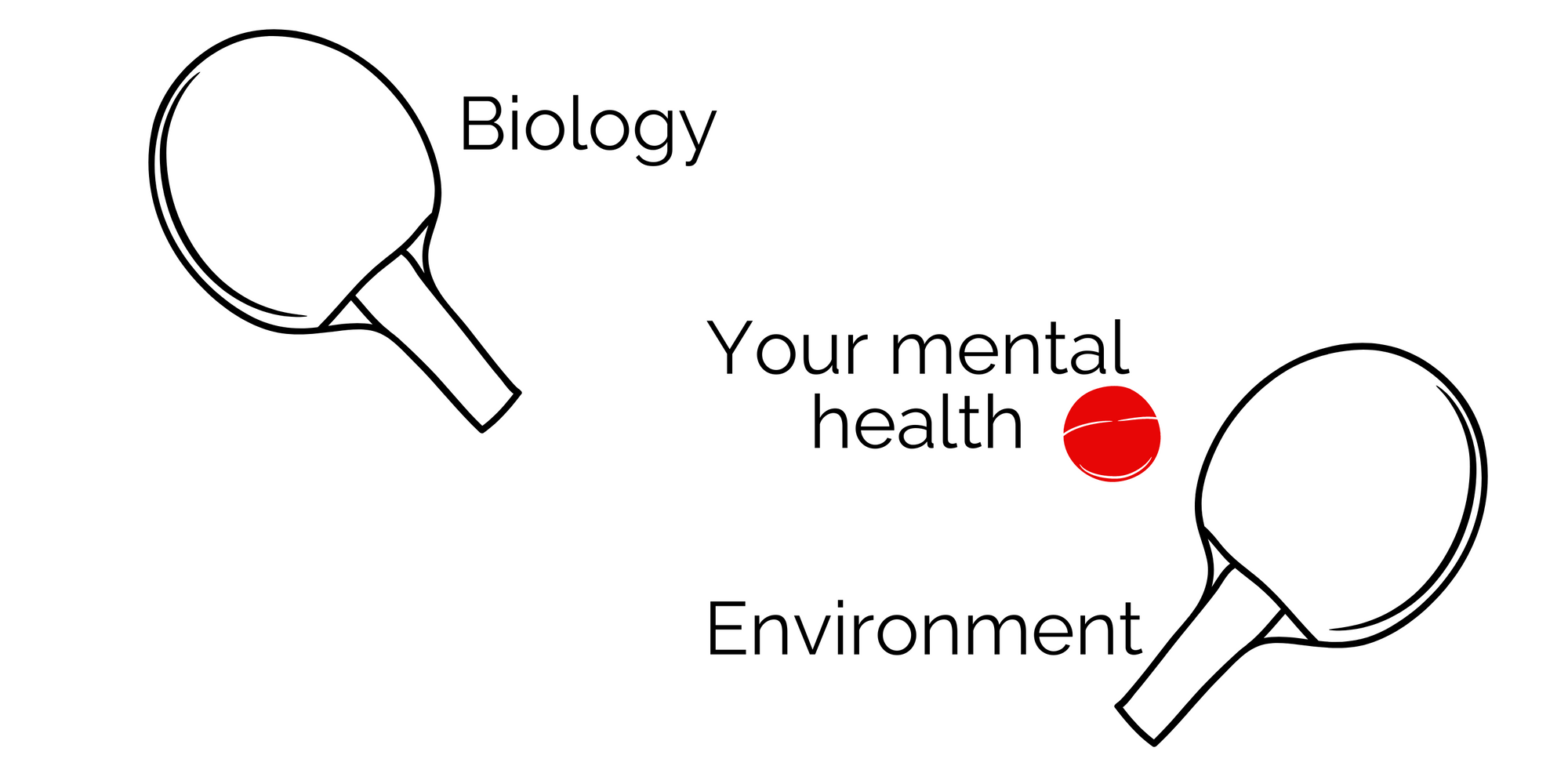 Today, the site has 50+ pieces of writing and audio stories, spread across four main themes: culture, economics, politics, and technology, all accessible without a hard paywall. Enjoy this highlights package set to nice mellow music:
Which stories got the greatest love?
I don't track granular data because Sanity was built to be privacy-friendly (also because metrics like email open rates are dead). But based on a rather unscientific mix of responses from readers, social media chatter, new sign-ups, and opens (when that metric still meant something) here are three of the most-loved stories since August:
And a surprise, sentimental hit: Maa's meat shelf.
My personal favourites? A parent can't choose etc, but here's a list if I must.
📌
The biggest fave of Year 1 with an open rate of nearly 70% is this 👇🏾 piece from December 2020, where I outlined my editorial values. There's no better advertisement for sharing your process and principles with your readers.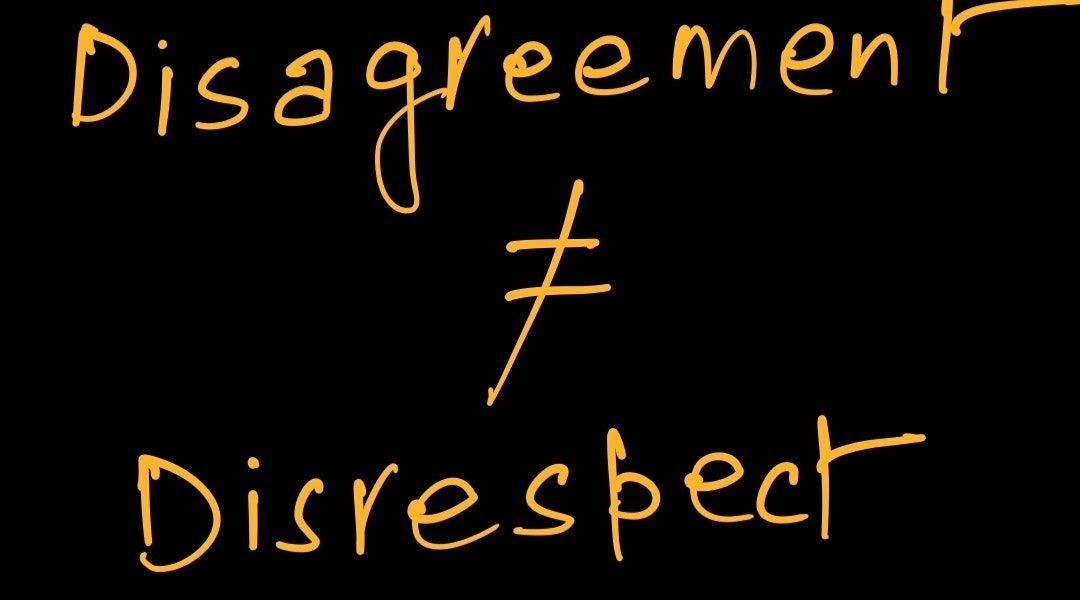 It does get exhausting to do this all alone, and I am constantly worried that the site needs more diversity. I'm happy to report that we ended the year with two terrific guest writers, Isabelle Roughol, founder of Borderline, based in London, and Angi Yoder-Maina, executive director of Green String Network, in Nairobi. Hopefully I can welcome a few more next year.
A standout part of this year was my collaboration with the extraordinary illustrator Ibrahim Rayintakath, who has since gone on to work with the New York Times, Apple, and Google. Thanks Ibrahim for designing Sanity's new logo and so much more. I will be forever haunted by the image you created for one of the year's early successes.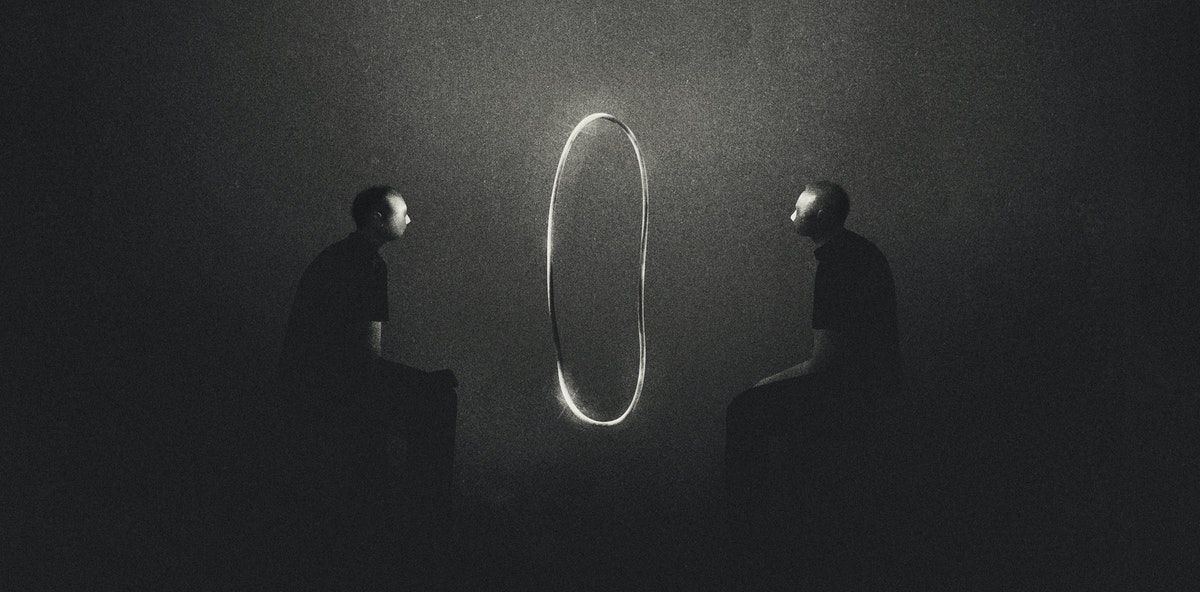 Numbers
Ta da. Here come the pudding and the proof, or something like it.
Total subscribers as of today: 2,325
Paying supporters: ~300
Countries represented: 40+. Unreal.
Here's one of my favourite nuggets: the rolling 30-day churn rate among paying supporters at the moment is a negligible and soul-pleasing 0.91%. THANK YOU to every supporter for not just paying but staying.
Sanity's total revenue from subscriptions and donations between December 15, 2020, and December 15, 2021: ~USD 17,000.
Which translates to a monthly recurring revenue of ~USD1,400.
💡
What does that number mean? It means a platform dedicated to long-form, deeply researched pieces on mental health – not listicles and 'how-to's – is making real money (!), unlike the vast majority of newsletters out there. A massive THANK YOU to every single paying supporter once again.
It also means non-white, non-US/-European creators might just have a fighting chance in this new world, even though the creator economy is rigged against us. "A survey of 5,000 creators in Brazil suggests half make less than $100/month and 23% are unable to make money," writes Laura Oliver in this definitive piece on the painful odds of making a living doing this work if you don't live in a rich country.
I've felt that pain in my bones this year. While I was lucky to have some savings to support my family, I've always been clear that Sanity is my full-time job and needs to become independently sustainable. That has proved just as intimidating as I thought it'd be.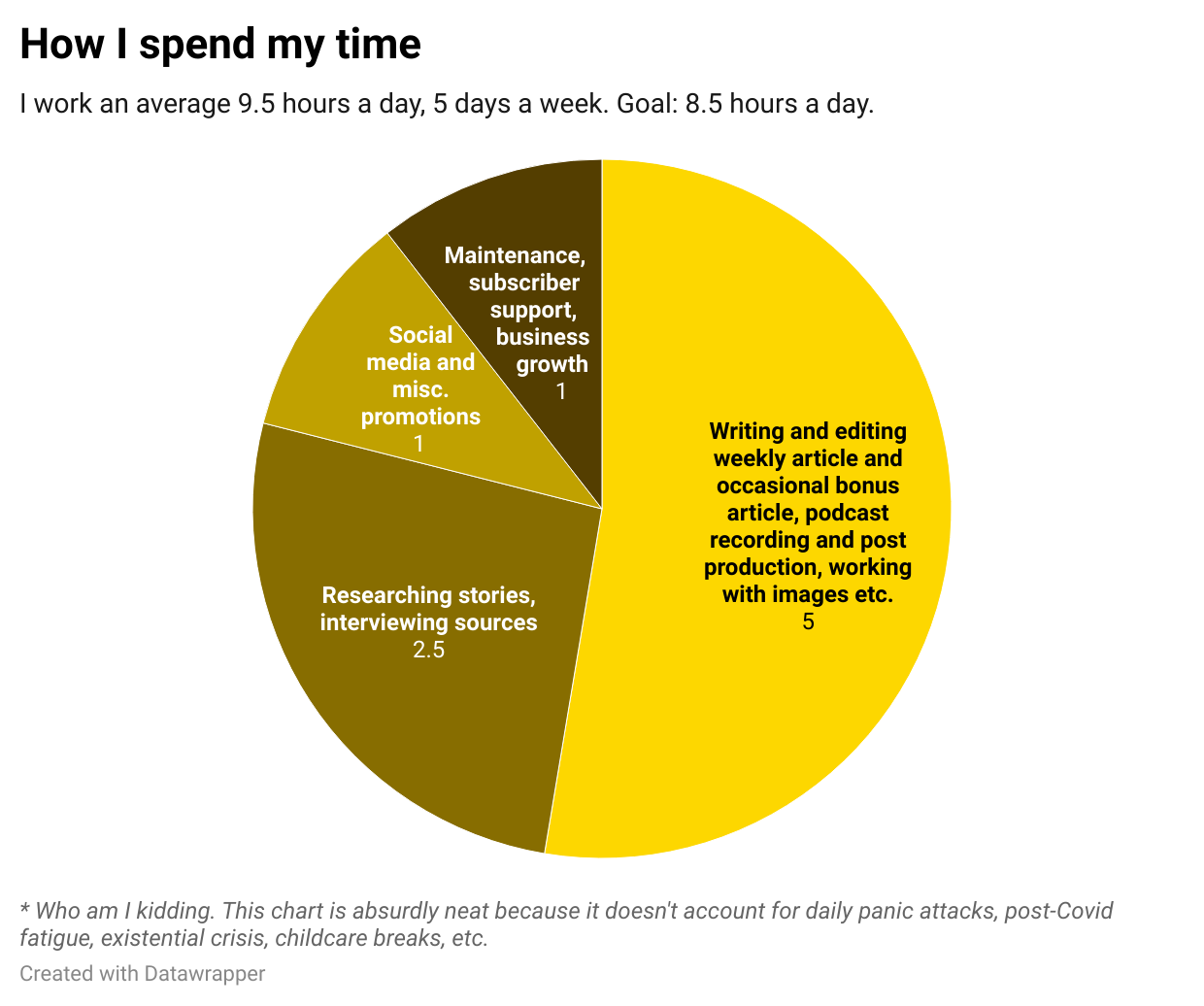 In the service of sustainability, a couple of months ago I launched a campaign to get to 1,000 paying supporters by the end of the year. In my campaign pitch I'd explained the arithmetic behind that number. Sadly, I could not execute full-steam on my plans for reasons I'll get into in the next section.
The upshot: my goal is to have Sanity support my living costs and pay for a couple of team members; right now, it's only 1/3rd there.
However, as I'd written in my pitch, my target for Year 1 was ridiculously and intentionally aggressive. The larger goal of reaching 1,000 paying supporters remains crucial, but I've removed the year-end deadline from it. I will continue to work hard on getting new supporters and, importantly, diversifying revenues beyond subscriptions and donations. But as a one-person outfit, I will not subject myself to the agony of 'growth campaigns' that are run by half a dozen people in large newsrooms.
The exciting news is, there's already progress on the diversification front. Details follow.
Moral of the story: Excel sheets be damned. Sanity has had a year I couldn't have hoped for in my wildest fantasy. Bring it on, 2022.
The not-so-great stuff
First of all, that growth campaign. Here are two reasons I never really managed to give it the push it deserved.
One: I had a nasty relapse of my depression weeks after announcing it and struggled to do much more beyond writing the weekly pieces and spending inordinate amounts of time on Twitter. But that's not new to me.
What I was not prepared for was a unique regulatory obstacle. Right after I announced the campaign, new payment rules in India caused a disruption in all existing card-based Indian subscriptions, forcing me to spend time writing these awkward emails: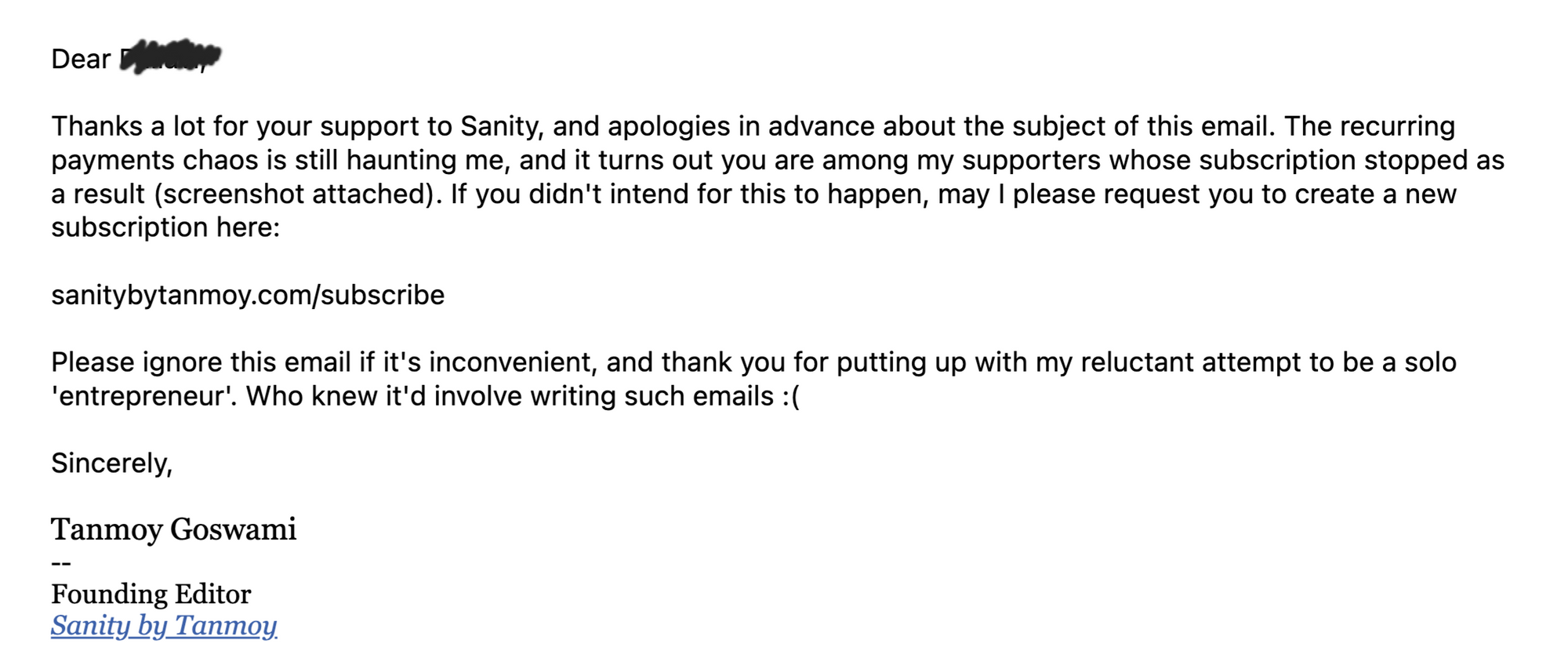 While subscription-based giants like Netflix can absorb this blow, it's devastating for small operations like mine, for whom even a single dropped subscription means a significant dent.
As I write this, Indian card payments are still failing, and the situation remains chaotic. (Thankfully, international payments seem to be working fine.) I've had readers tell me they wanted to subscribe but their cards just wouldn't work.
Suffice it to say, I have spent the past few months fretting and screaming rather than focus on creative pursuits. A leading Indian business paper even quoted me on this nightmare.
Primarily because of my low energy and high stress levels, I had to pause RAW, my audio series – I am sorry and will return with an update as soon as I can. I learnt that podcasts require a huge amount of time to plan and produce. Don't start a podcast unless you can commit to it.
Because of budget constraints, I also wasn't able to commission as much new writing and art as I'd have liked to.
I wanted to test out the hypothesis that discounting and paid marketing have very little role to play in projects like Sanity that are built on a close relationship between creator and reader. So I ran two small experiments – targeted discount offers and a tiny promo campaign on Twitter. Predictably, both tanked. Not doing that again.
One feature on the site that has stagnated is commenting. Most of you reach me via email, so I am questioning the need to spend on the open-source, privacy-friendly commenting software I've installed. Do you think I should ditch it?
Recognition for Sanity
Back to the fun stuff.
Perhaps the most unexpected recognition for Sanity's mission came from the world's most powerful mental health journal, The Lancet Psychiatry, where I got to co-author a piece on suicide prevention in India. I was invited as a lived experience expert – the only 'Mr' amid a bevy of 'Dr's. I wrote about it here.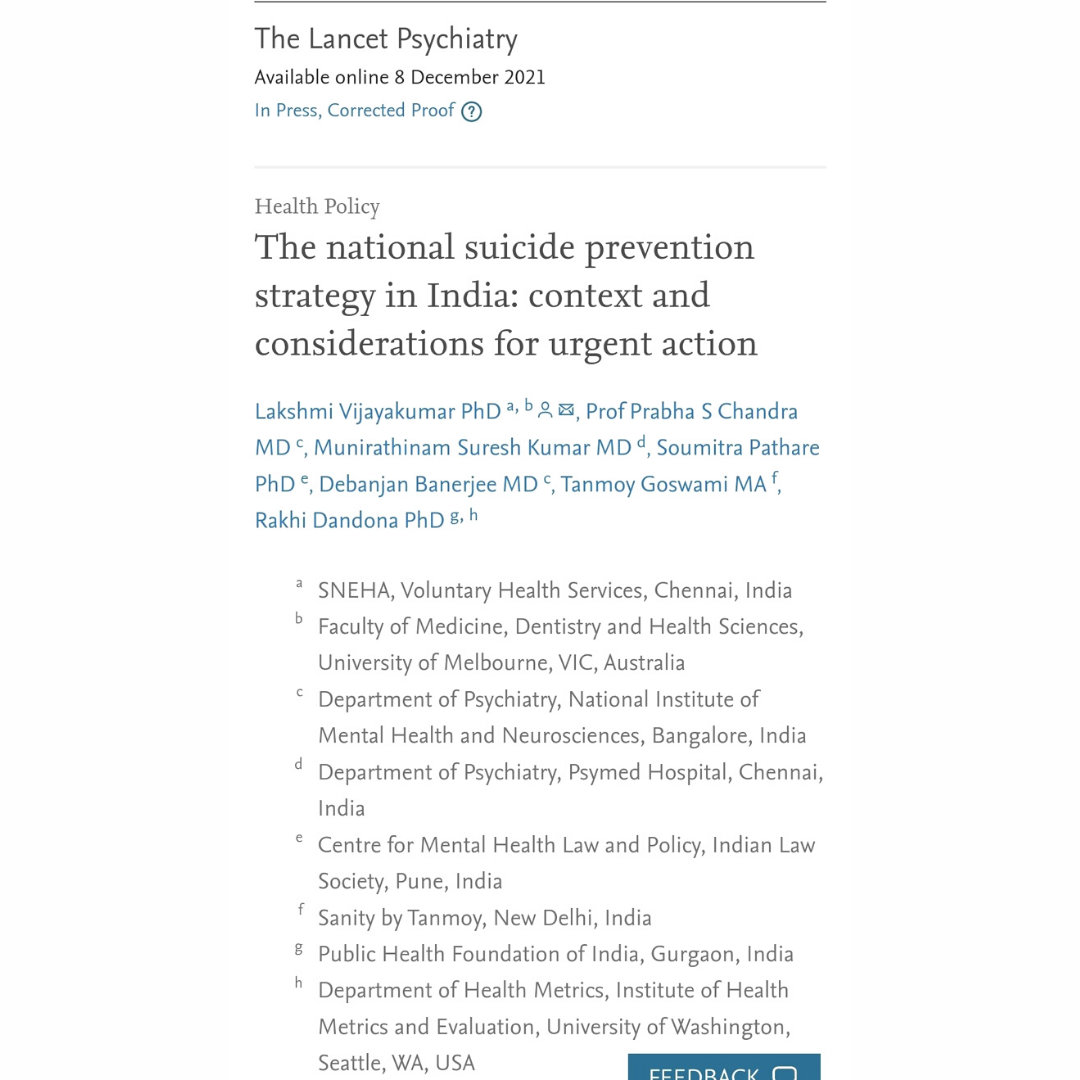 Here's something very different that I was chuffed about: the Hong Kong Foreign Correspondents' Club asked me to weigh in on 'How to build your media brand during a pandemic'.
Sanity was also featured on Splainer, one of India's hottest new newsletters.
Earlier in the year, Sanity had broken into the top 6 of Substack's paid health-related newsletters within 100 days on the platform, the only non-western name on that list.
All of Sanity's appearances in the press, from Poynter to the Reuters Institute for the Study of Journalism, are here.
Of course, none of this means nearly as much to me as the constant support and validation from my readers. I must have seen this testimonials video a thousand times, pray indulge me one last time for the year.
Coming up
The first thing I want to do is create a leave policy for myself. I'm conscious that I've set an unhealthy example by refusing to take enough breaks through this armageddon of a year, including when I caught Covid. I'm thinking of various approaches: capping the number of stories I publish in a year, or taking a 'season' approach with reasonable gaps between seasons. Send me ideas?
One experiment I'm excited about is a paid internship programme to grow Sanity's reach among psychology students in India. I received dozens of CVs and have just identified a brilliant candidate I'm very much looking forward to working with. Announcement soon.
To help with revenue diversification, I'm working on a cohort-based course on the real-world currents shaping the mental health movement. The course will cover the intersections between mental health and politics, economics, and technology and will be useful for mental health professionals, students, activists and advocates, policy enthusiasts, and people with lived experience and caregivers. And it will allow me to return to teaching, something I love.
You will soon hear about a new commissioned editorial project for which I'm partnering a prominent mental health organisation in India.
And finally, as decided in my roundtables with paying supporters this year, I will start working on creating an editorial advisory board that will help me identify and vet new ideas and creators.
That's it for the year
Phew. Not too shabby. And I didn't even get to tell you about all the other unexpected treasures 2021 led me to – such as picking up basic design skills, learning how to edit video on my phone, making peace with asking for help while fighting dreadful imposter syndrome, accepting that I need to sell and not just write, and figuring out how to adequately give thanks to all of you who stayed by me through a year when grief and loss covered us like permafrost. While I work on that last puzzle, here's a digital bookmark for you to download.
This is the last original piece I publish this year. Thanks for reading. Let me know your impressions of Sanity's first year, and I will see you in 2022.
Until then, may sanity be with you.
Correction: I'd misspelt Laura Oliver's surname in a pervious version of this article. My apologies.
Comments
Join the newsletter to receive the latest updates in your inbox.